Microstructure Technology
Lab worker in clean room with microstructure on mounting material
Landing page
Influencing light by nanostructures is a key enabling technology for the upcoming century. We as Microstructure Technology group aim for the advancement of the fabrication methods used to make these structures and provides these to academia and industry.
The group is operating in more than 1500m² joint cleanroom facilities (<ISO4) together with IPHT and IOF to provide the full process chain on wafer scales up to 300 mm.
Recent scientific highlights:
Ultra low noise microstructured mirrors for 12000-finesse laser cavity
Meta-mirrors for power stabilization at Einstein Telescope (gravitational wave astronomy)
Novel phase mask for Fiber Bragg gratings
Sub-Nanometer uncertainty dimensional metrology
Line-edge roughness as challenge for meta materials
Switchable meta materials
Bound states in the continuum for optomechanical light control
All-optical Light Control
Spectral range: From X-Ray to FIR
Micro-Optics for Quantum Devices
Low loss Lithium niobate on insulator waveguides
Do you need specialized nanostructures for your science? Please contact us, we are always open to fruitful collaboration.
For students: we are regularly providing Bachelor, Master and PhD Positions and the lecture on Micro/Nanotechnology every summer semester. A practical lab course is upcoming…
Thomas Siefke, Dr
Responsible Person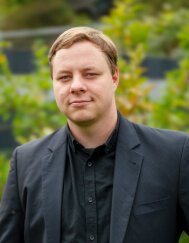 IAP, Room 257
Albert-Einstein-Straße 15
07745 Jena